November 23, 2020
Professor Patricia (Tish) Robinson of Hitotsubashi ICS believes that conflict transformation is a skill that belongs in every manager's toolkit. Her interest in conflict resolution stems from two decades' worth of corporate training and consulting in companies such as Berlitz, Denso, Dentsu, Goldman Sachs, JTB (Japan Travel Bureau), Mitsui Trading, Mizuho Financial Group, Nikkei Shimbun, SMBC Mitsui Sumitomo Bank, Yamaha Music, and Yamaha Motors, among others. Robinson has spent her sabbatical this year at Stanford University researching how managers could apply mediation and coaching to leading diverse teams.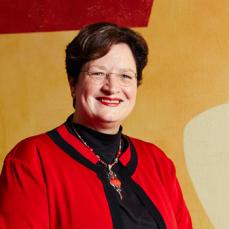 We asked Professor Robinson about her upcoming Global Network course on conflict resolution for managers.
What made you decide to teach this particular course as a SNOC? 
The course, "Conflict Resolution for Managers," is aimed at leaders of Global Virtual Teams, because it focuses on transforming cross-cultural and other misunderstandings and disagreements that often arise on global virtual teams.  You'll likely recognize many of the cases used in this course as common conflicts that occur in cross-cultural settings. 
What does the global virtual environment of a SNOC provide for students in terms of cross-cultural learning, and how can this also help you? 
The biggest interpersonal challenges facing leaders of multi-cultural teams often take the form of thought diversity: disagreements, misunderstandings, or differing approaches to work. This course provides leaders with tools that have been proven effective in over 85% of cases, for millions of conflicts worldwide among people with different perspectives, different approaches to doing business, and different meanings and customs.  Using these tools and skills, you will learn to intervene more skillfully in conflicts across culture, as well as other forms of diversity, including functional expertise, gender, age, sexual orientation, work style preferences, etc.
What do you hope students take away from your class that they can apply to their careers, regardless of the path they choose? 
Being able to transform conflict and repair ruptured relationships is a life skill you can use at any level of the organization, as well as with your family or community. Along with developing and polishing useful conflict transformation skills, you will also leave this course having gotten to know some very interesting people!
Is there anything I haven't asked you about that is worth considering or mentioning? 
This course is experiential and uses role play exercises to allow you to experiment and practice various approaches to resolving conflict. Research shows that when you practice resolving disputes, you're not caught off guard as much when you actually experience disputes at work.  This experiential course will provide you with the skills, structure, and practice to support your team to resolve work-related conflicts, repair relationships, and feel heard. Through learning by doing, you will learn and hone managerial skills that should be part of every manager's toolbox.