May 9, 2019
A team from Business School, Renmin University of China has won the Performance Prize in the 2018-19 Global Network Investment Competition, sponsored by the International Center for Finance at Yale School of Management.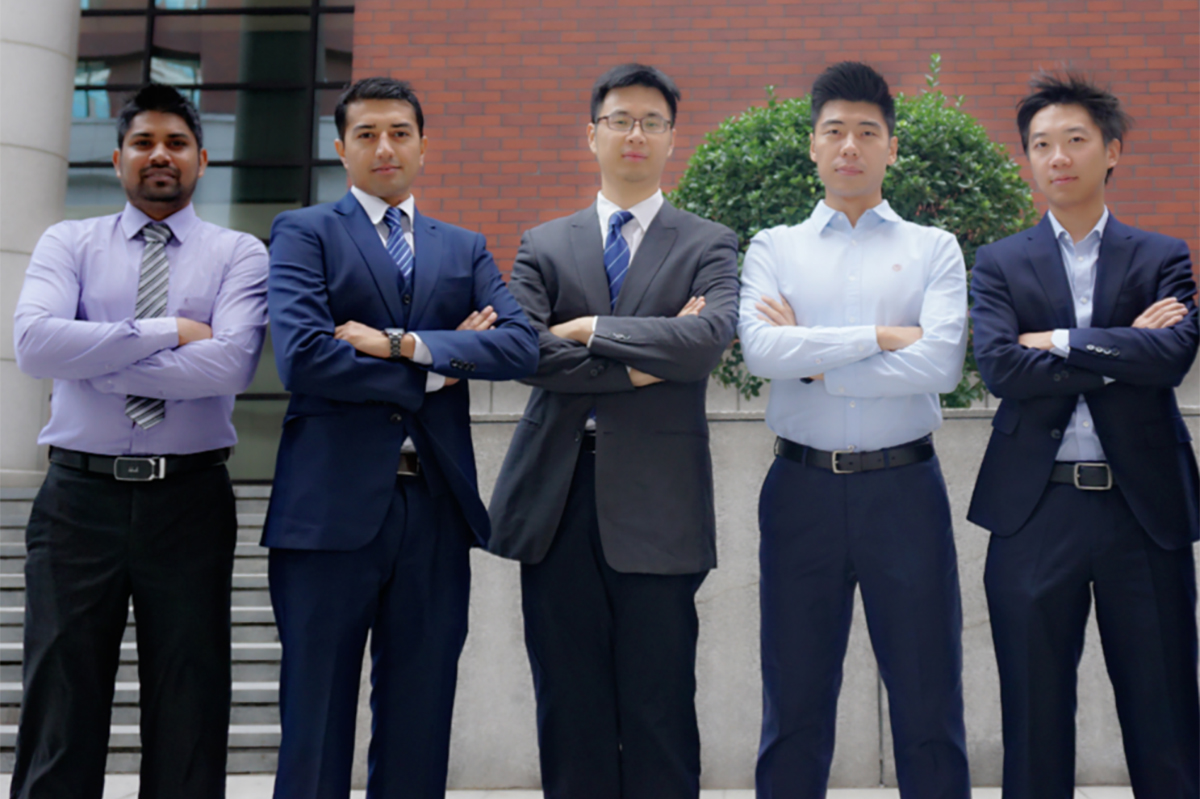 Big Six, Renmin's team, realized a return on its portfolio that was 28.67% better than that of the Shanghai Stock Exchange Composite Index, besting 23 other teams in the six-month competition that began in November. The teams comprised students from 16 schools across the Global Network for Advanced Management. As the team with the best returns on its portfolio—defined as the gross return of a portfolio of stocks publicly traded in the team's home country, less the performance of the country's capital-weighted stock market index—Big Six will receive the $3,500 first-place prize.
Big Six team members are Guo Xiangyu, Abiral Khatri, Wang Lu, Wei Qiang, and Korala Mudiyanselange Roshan Malindha.
Big Six team member Guo Xiangyu said that the competition proved an invaluable learning experience, calling it a "great chance to compete against so many excellent teams."
"Holding on to a good portfolio for a long time is better than changing it frequently," said Xiangyu of the team's main takeaway from the competition. He added that the competition's prohibition on selling stocks during its duration worked in his team's favor. "If we had been allowed to change our portfolio, we might have sold some really good shares when they didn't perform so well."
Xiangyu said that the competition's results revealed important insights about investing in the current climate.
"As eight of the top 10 teams came from developing countries," it's clear, Xiangyu argued, that "fund managers should always keep an eye on the investment opportunities in developing countries."
Xiangyu also shared advice for those looking to invest in the Chinese stock market. He said that, even as "the stock market is directly impacted by geopolitical events and trade wars," investors can still realize returns by adhering to quantitative analyses in assembling their portfolios.  
Chinese investors are most often individuals instead of institutions, explained Xiangyu, and therefore their decisions are often more heavily "based on media information and qualitative factors… Investors can maximize their returns by paying attention to the quantitative analysis of the company" in whose stock they seek to invest.
The Global Network Investment Competition is composed of two parts: the Performance Prize and the Security Analysis Prize. Capital Y, the competing team from the Yale School of Management, won the $3,500 Security Analysis prize in March for its analysis of stock offerings from alternative asset management firm the Blackstone Group, and MBA 44 from SDA Bocconi won the $1,500 runner-up Security Analysis prize.