March 1, 2019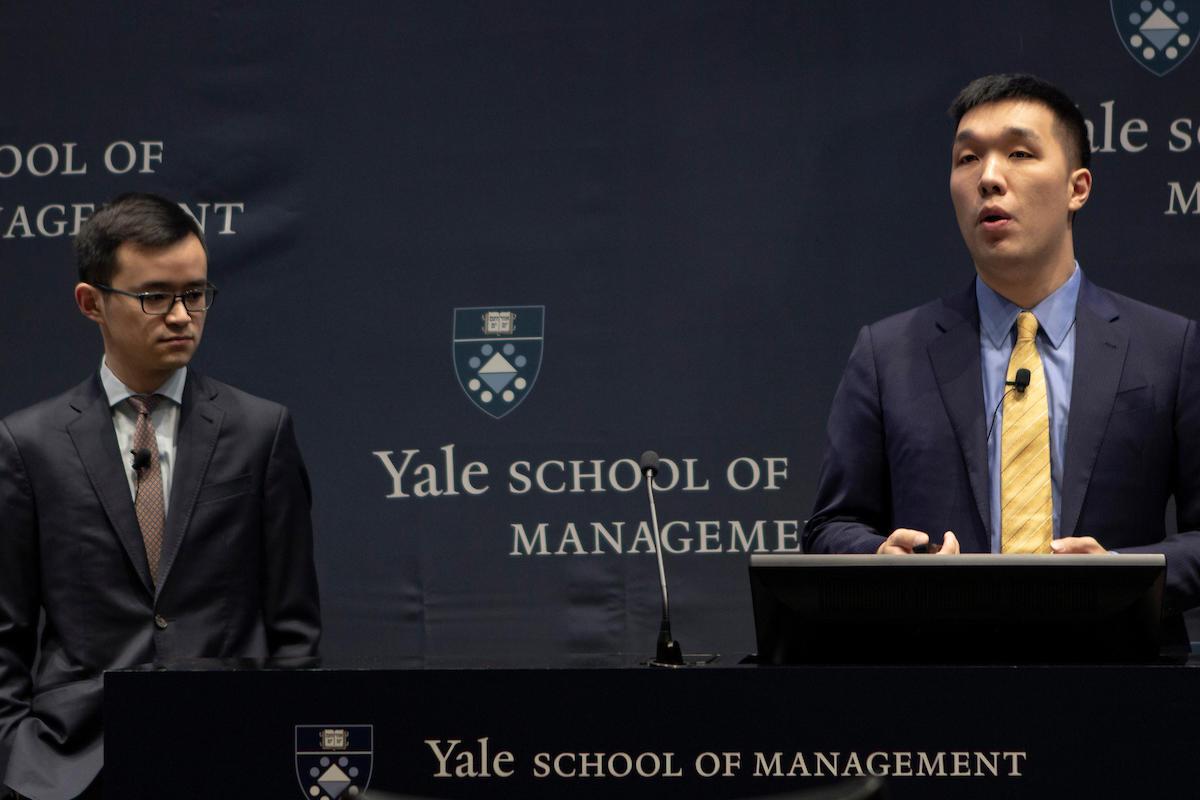 Judges and four student teams representing member schools from across the Global Network for Advanced Management convened virtually on March 1 for a live pitch competition as part of the 2018-19 Global Network Investment Competition* sponsored by the Yale School of Management's International Center for Finance. The security analysis competition tasks teams with selecting a stock from their home country, developing an investment thesis, and pitching the merits of the investment to a panel of judges. Teams are evaluated on four criteria: quality of stock analysis and research, investment thesis, presentation skills, and the quality of a question-and-answer session with judges.
Capital Y, the team from Yale SOM, was named the winner of the security analysis prize, taking home the $3,500 first prize for its analysis of stock offerings from alternative asset management firm the Blackstone Group. Team members include Christina Jin '20; Sonya Shen '20; Kevin Sun '20; Sam Xue '21, a Silver Scholar; and Yichen Zheng '20. 
The team from Italy's SDA Bocconi School of Management, MBA 44, was named the runner-up, taking home a $1,500 prize for its analysis of offerings from Prysmian Group, a multinational manufacturing company. Team members include Pedro Amorim, Pedro Barreiro, Marco Fantozzi, Martin Homolka, Nikj Pesce, and Christopher Rufo.
Also participating in the competition were Crazy But Not Yet Rich Asians, a team from National University of Singapore Business School that analyzed stock offerings from engineering group Sembcorp Marine Limited; and 4D Investments, a team from Seoul National University Business School that analyzed stock offerings from steel manufacturer SeAH Besteel.
Judges included portfolio manager Michael J. Alpert, chair of the Wealth Management Investment Committee at Stralem and Company; Andrea Baumann Lustig '86, president, Stralem and Company; Christopher Kim, senior analyst, Cartica; and Eddie Tam '93, CEO and CIO of Central Asset Investments, International Center for Finance board member, and member of the Yale SOM Greater China Advisory Board.
Judges offered feedback to competitors at the conclusion of the presentations, providing constructive criticism and commending the teams on their work. 
"I think all of the analysis was excellent," said Alpert, "and the macro-analysis was top-notch."
Kim encouraged the teams to embrace the experience as a learning opportunity.
"The best advice I can give is to continue to watch the stocks. Break down what went right and what went wrong, and just keep learning, because that's all this is about—everyone [in the industry is] learning all the time," he said. 
*The portfolio performance portion of the Global Network Investment Competition is ongoing, and you can view the current standings at the competition website.