October 26, 2017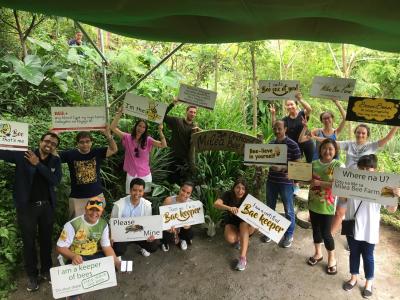 Nine students from the Global Network for Advanced Management participated in the Asian Institute of Management's Global Network Week module on management and ecotourism.
The week included lectures from faculty on managing natural resources in a sustainable way, and the significance of the tourism industry for developing economies like the Philippines. Prof. Fernando Martin Y. Roxas, Executive Director of the AIM-Dr. Andrew L. Tan Center for Tourism, presented cases on ecotourism including discussions on the Tubbataha Reef National Park and the Puerto Princesa Underground River. Talks also included visits from representatives from the Philippines' Department of Environment and Natural Resources
Complementing the lectures conducted during the classroom sessions, the students completed several site visits, including to the Manila Ocean Park (MOP), a marine theme park in the Philippines, for the second day of the week. 
The students also visited the Milea Bee Farm. Rico Omoyon, owner of the bee farm, discussed Philippine beekeeping practices and its opportunities, emphasizing the abundance of bees in the country where a total of seven types of species can be found. Despite this abundance, he cited Filipinos' lack of awareness to the importance of beekeeping in promoting sustainable agriculture. As an advocate of proper beekeeping and breeding, he talked about his experiences in teaching beekeeping to schools around the country as well as in remote islands. He also discussed the potential of promoting apitourism (beekeeping) as an educational opportunity and a tourism initiative.
During the week, students conducted research to prepare a capstone project presentation on ecotourism in the Philippines and recommendations for areas to improve upon. The students emphasized  local community involvement and public-private partnerships as avenues for further development, in addition to boosting social the social media presence of small-scale ecotourism companies like the bee farm. In the micro level, the students presented proposals for the development of Milea Bee Farm. Maximization of social media presence, market segmentation, establishment of resort facilities, and improvement of branding and product packaging were cited as recommendations.
At the end of the program, students were awarded with certificates of completion by Dr. Jikyeong Kang, President and Dean of the Asian Institute of Management.