April 4, 2016
Students took advantage of the Global Network for Advanced Management (GNAM) partnership of 28 top business schools from across the globe that UBC Sauder joined in 2014. Three times a year, GNAM schools host network weeks—immersive courses that dive into a topic in which the school has strong expertise.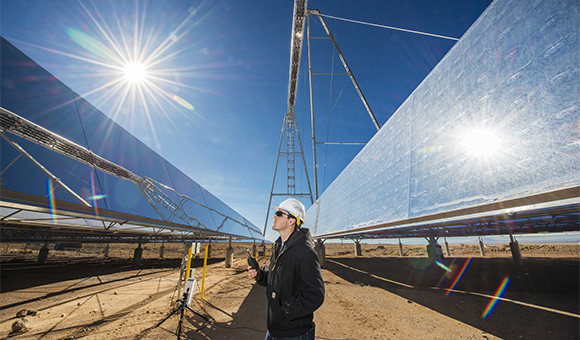 Two of UBC Sauder's own MBA students from the Robert H. Lee Graduate School took the course, while 25 other UBC Sauder students took network week courses in Japan, South Africa, Spain, South Korea, China, Hong Kong, and the United States. UBC Sauder students in the full-time and part-time MBA programs and the International MBA program in Shanghai are eligible to take part.
Tansey's course is called "Clean Energy and Green Infrastructure—Innovation at the Nexus of Politics and Society." He says it's essential for all MBA students to understand the role climate policies play in the world of business, and how the next generation of leaders can be at the forefront of innovation. 
Tansey answered the following questions about clean technology and Global Network Week:
Why is it critical for future global leaders to understand clean energy and green infrastructure?
Every major developed country in the world now has some level of commitment to climate change policy – there's a very clear need to transform infrastructure, a need for a big spend on ways to reduce emissions and achieve climate goals. Understanding the conditions for achieving those goals is essential for any leader in business or government. Climate issues aren't always given enough focus in business school classes, so the students I've taught in past network weeks have been very keen to enhance their understanding of such a key topic. It's become absolutely essential to understand the politics of energy and climate change, and what businesses can do to stay on the leading edge.
What are some of the key takeaways you want students to learn during Global Network Week?
Students will come away with a better understanding of policies and regulations relevant to energy and green infrastructure, particularly focused on North America, which has a fragmented mosaic of different initiatives. And as we'll go over some important case studies, they'll have a better sense of what works, what doesn't, and why.
What do you feel are the unique advantages of Global Network Week?
I think it's great to have such an international group come together, representing 9 or 10 countries on multiple continents, all having learned different things in their MBA programs. It's been a lot of fun to teach, and I think it's been very valuable for UBC Sauder's own MBA students who are taking part.
It's also great that students can learn about global business topics in the environments most suited to the subject. UBC is a great for this class, as it recently announced a 30 per cent reduction in campus emissions. Vancouver is a major hub of clean technology innovations and strives to be the world's greenest city, while British Columbia has been a global leader on climate policies. It's a great context for teaching the lessons we're already learned here, so the students can take them back home.