In 2014, Germany lofted the World Cup trophy, and Yale's David Bach highlighted some of the management principles underlying the victory. This year, things didn't go so well, and the German side was eliminated in the initial round of the tournament. But there are always lessons to be learned—even in defeat.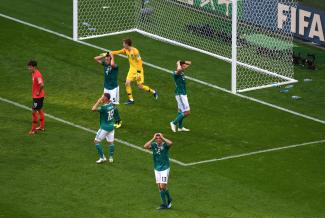 Four years ago, I boldly proclaimed on these pages that Germany's World Cup victory had been a triumph of management. While other teams had hoped passion and the raw skill of their superstars would carry them forward, Germany in 2014 had invested in long-term capability building, meticulous planning, an inclusive team culture, and competitive intelligence, while empowering players to deviate from the plan when necessary. The result was not just the country's fourth star but also a system that was the envy of the (soccer) world and that led the team to enter this year's contest as the statistical favorite to lift the cup again.
Are we to conclude that Die Mannschaft's resounding defeat in the 2018 group stages, capped by a humiliating 0-2 loss to South Korea, can consequently be ascribed to bad management? The short answer is yes, or at least it highlights a trap that leading organizations can fall into and that even highly successful managers, and perhaps specifically the most successful, can become victims of. And no, I don't mean hubris—I mean risk aversion as a result of rational calculus.
In its last group match, Germany had more than 20 shots, prevented South Korea from scoring through 90 minutes, and would have advanced with just one goal. In light of the many missed chances, it's clear that the outcome of the match and therefore the tournament could have been very different.
If we zoom out, however, we see an interesting pattern. With its loss to South Korea, Germany became the fourth of the last five defending champions not to survive the group stages and the third in a row. It was the first time in the country's history that its squad had failed to qualify for the knockout phase and the first time since 2002 that it is not among the final four, the longest such run in World Cup history. Confounding matters further, Germany won the 2017 Confederations Cup, the eight-team prep tournament for the World Cup, with a B team made up of only its up-and-coming young players (including a 4-1 thrashing of Mexico, the team that soundly defeated Germany in game one this year). Combining the still-strong 2014 stars with the best of the youngsters should have made for a formidable 2018 team and expectations were consequently extremely high.
The talent was there for Germany, just as it had been for Spain in 2014, Italy in 2010, and France in 2002—the tournaments following their respective wins that saw each team fail to advance. As all scientists know, when one observes consistent outcomes despite variation in the units, structural factors must be at play. That's where risk aversion comes into play. Four years on, a coach can field players who formed part of the previously victorious squad or give fresh talent a chance. Yet with the exception of Italy in 2010, coaches of defending champions have heavily relied on proven winners in their first match starting lineup:
2002

2006

2010

2014

2018

Defending champion

France

Brazil

Italy

Spain

Germany

First match starters from previous champion team roster (out of 11)

10

8

5

8

8

Match result

0-1 loss vs Senegal

1-0 win vs Croatia

1-1 draw vs New Zealand

1-5 loss vs the Netherlands

0-1 loss vs Mexico

Tournament result

Eliminated in group stage

Eliminated in the quarter final

Eliminated in group stage

Eliminated in group stage

Eliminated in group stage

 
 
 
 
 
 
 
 
 
 
 
 
 
 
 
 
 
 
 
 
 
 
 
The average for the five defending champions is 7.8 returning players in the first match starting lineup, or 71% of the starters. The only outlier is Italy 2010, a rejuvenated team out of necessity four years after the Azzurri had lifted the cup with the oldest team of the tournament. In each case, poor performance in the opening match spelled doom, and while lineups in subsequent group matches usually featured some fresh blood, none of the coaches could deviate much from the script. 
In contrast, the 2018 opening match starting lineups of Spain, Portugal, France, Brazil, Argentina, and Uruguay, arguably the historically strongest European and South American teams represented at this World Cup, only averaged 5.7 returning players, just over half. In fact, if we exclude Spain, which fielded eight players in 2018 who had been part of its miserable 2014 campaign, the average for the rest falls to just 5.2, including 5 for Brazil and 6 for 2014 finalists Argentina. All six teams, by the way, qualified for the 2018 knockout stage, albeit barely in the case of Argentina. 
So why would the coaches of defending champions rely so much more on World Cup veterans than their peers? World Cups are intense. The pressure is incredibly high. A tournament usually has many twists and turns. And that's why many coaches bet on experience, on players who have been there before, who know how to prepare and how to perform when it counts. However, when that experience involves the ultimate triumph, it's a small step to complacency. Coaches know this, of course, and yet most would not dare to leave champions at home who remain at or near the top of their game. It is simply too risky for the coach—if veterans fail, they and the coach get blamed equally. But if the coach leaves veterans at home and first-timers fail to deliver, the coach bears most if not all of the blame—after all, nothing stimulates Monday-morning quarterbacking more than snubbed former heroes. It is rational to spread the risk and coaches consequently field too many former champions. In short, because former champions are less likely to be hungry for success than newcomers, coaches should rely on them less—yet precisely because they have proven they can do it, coaches rely on them more.
This, of course, is a familiar dilemma in business. One of the hardest things to ask of a manager is to deviate from what has made him or her successful in the past, to stop doing what has worked. That's one of the main reasons why organizations struggle so much with change. Rare is the board of directors, for instance, that asks a CEO to bet on the unproven rather than to keep exploiting what has worked. That's true even if an earlier audacious bet had made the company what it is. At the organizational level, Clay Christensen has dubbed this the "innovator's dilemma."1  And capturing a parallel logic for mangers, leadership guru Marshall Goldsmith famously proclaimed, "What got you here won't get you there,"2 extolling them not to rest on past success.
How can we avoid the pitfall of excessive risk aversion following success? When it comes to hiring, talent scouts such as Claudio Fernández-Aráoz already urge companies to focus on potential rather than experience or past performance.3  Central to potential, he explains is "the right kind of motivation: a fierce commitment to excel in the pursuit of unselfish goals." Similarly, innovation gurus are telling leaders to accept and even to celebrate failure within their organizations, particularly when failure was the result of a reasonable bet on something new, innovative, or different that just happened to not work out. As Julian Birkinshaw and Martine Haas argue, "One of the most important—and most deeply entrenched—reasons why established companies struggle to grow is fear of failure."4  Combating this not only means accepting failure but also setting up systems to learn from it.
Perhaps, after seeing the third champion in a row crash out in the group phase of the World Cup, the 2022 coach of this year's winner will learn the lesson: particularly when you have abundant talent, hunger trumps experience. Maybe it's time for a defending champion to field a rookie team. Then again, given how much managers and organizations struggle with inertia, risk aversion, and success-induced complacency, it's a fair bet that we won't see a country win twice in a row any time soon—and that will keep the World Cup exciting!
  1 Clayton M. Christensen, The Innovator's Dilemma (Harvard Business Review Press, 1997)
  2 Marshall Goldsmith, What Got You Here Won't Get You There: How Successful People Become Even More Successful (Hachette Books, 2007)
  3 Claudio Fernández-Aráoz, "21st-Century Talent Spotting," Harvard Business Review, June 2014
  4 Julian Birkinshaw and Martine Haas, "Increase your return on failure," Harvard Business Review, May 2016