On May 7, Emmanuel Macron defeated nationalist Marine Le Pen in France's presidential election. Faculty members from the Global Network weigh in on the vote and its implications for the future of France and the European Union.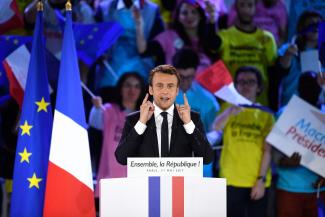 France
JEREMY GHEZ, PROFESSOR OF ECONOMICS AND INTERNATIONAL AFFAIRS, HEC PARIS
"Now that he is elected, Macron is in a paradoxical situation. On the one hand, he is likely to enjoy a honeymoon period with the international community, who will see in his success evidence that France is back in the game and willing to reform. It will be a sign of rejuvenation against all odds, in the context of the Brexit and Donald Trump's election. On the other hand, he takes the head of a very divided country. The most vulnerable populations in the country did not vote for him. As a result, he is unlikely to enjoy any honeymoon domestically. This is the complex sea he will have to navigate."
Germany 
FRANCIS DE VÉRICOURT, PROFESSOR OF MANAGEMENT SCIENCE, ESMT BERLIN
"The fundamental question is whether Germany will agree to increase its investment in the European project before Macron fully delivers on his economic reforms. He resolutely put Europe at the center of his campaign—it is no coincidence that he chose the European Union's anthem to celebrate his victory—and his economic program is a bet on the Eurozone. To succeed, Macron needs to quickly demonstrate to a skeptical French public that Europe is indeed an asset for the country. This means that reforms in both France and Europe need to happen at the same time. Germany, however, has always hoped to see robust economic changes in France first. Will Macron convince Germany to overcome its fear of freeloading? There are good reasons to believe so. But the election of Macron may well turn into a fundamental test of Germany's commitment to save the European project."
Ireland
JOHN CASSIDY, ASSISTANT PROFESSOR OF INTERNATIONAL BUSINESS, UCD MICHAEL SMURFIT GRADUATE SCHOOL OF BUSINESS
"Whilst many in the EU will be reassured that a far-right candidate did not win, nevertheless, 35% of those who voted chose to support Marine Le Pen. How will this cohort be appeased? The reforms that France requires may be beyond the scope of the new president, not least fiscal reforms, given Eurozone rigidities. Moreover, in attempting to institute the needed reforms, fertile ground may be sown for the emergence of an even stronger far-right party at the next election. Déjà vu all over again?"
Spain
FERNANDO FERNÁNDEZ, PROFESSOR OF ECONOMICS, IE BUSINESS SCHOOL
"Macron's win has been a relief, but the real problems start now. While Europe is back on the agenda, achieving monetary union will not be an easy task. France and Germany will have to work together, but they still have very different views on how to complete banking union, move forward toward fiscal union, and define what a social Europe means. And patience in financial markets is wearing thin, both with negative interest rates and lack of fiscal consolidation. Yet most worrisome is the fact that Macron is so far a one-man show, and experiments with charismatic leaders have not been very successful, in Europe or elsewhere. France needs to find a stable political playing field soon, with strong, well-organized parties capable of representing large segments of the electorate. Too many people are welcoming the demise of the liberal order. But, as the old saying goes, any known alternative is far worse. Prepare for emotions and volatility."
United States 
DAVID BACH, SENIOR ASSOCIATE DEAN AND PROFESSOR IN THE PRACTICE OF MANAGEMENT, YALE SCHOOL OF MANAGEMENT
"Should Macron fail, the backlash could mean that Le Pen would be the main beneficiary five years from now, especially if she succeeds at further mainstreaming her party's image. It's no surprise, therefore, that European leaders rushed to embrace France's president-elect in the hours after the election. They pledged to work with him to reform the EU, rekindle economic growth, and achieve both social and physical security. Globalists are right to feel they had a lot at stake on May 7—however, what happens next in France and in Europe will matter even more."

Excerpt from David Bach's article "Does Macron's Victory Signal the Defeat of Populism?" Read the full article on Yale Insights.
Global Network for Advanced Management