To coincide with the fifth anniversary of the Global Network for Advanced Management in April 2017, Global Network Perspectives asked faculty across the 29 schools in the network: "What do you think the future of globalization looks like? How will this affect the economy in your country or region? How is your school preparing students for this world?" Read all of the responses. Also, in a session at the anniversary symposium, a panel of experts—including former U.S. Secretary of State John Kerry—led a discussion of the future of globalization and its implications for business and management education. Watch the video.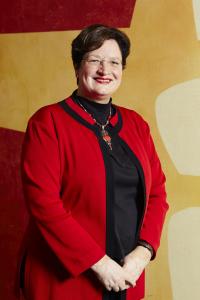 Globalization in our daily work lives will likely show up in our working on increasingly diverse teams. Drawing on Ryan and Deci's work on autonomy, relatedness, and self-efficacy as universal motivators, Hitotsubashi ICS is preparing students to lead diverse teams through our Empowering Diverse Teams course, which utilizes skills from team coaching, cross-cultural conflict mediation, and facilitation to empower and motivate teams. For example, to support team members in autonomy, we teach facilitation skills by teaching managers to ask rather than tell subordinates things, in order to encourage them to figure out solutions on their own. (This has the added benefit of gaining their buy-in on executing on a solution.) 
Second, to support relatedness and help teams get through the storming phase that faces most teams, we teach cross-cultural conflict mediation, so that teams can move on to norming and performing, à la Bruce Tuckman's Stages of a Team model. In addition, we use team coaching to promote relatedness through supporting team alignment, in terms of shared goals and team norms. Finally, to promote self-efficacy, we teach leadership coaching skills so managers can leverage and maximize their team members' self-efficacy. Our MBA program represents more than 20 nationalities, and team coaching, cross-cultural conflict mediation, and facilitation skills have proved effective in empowering diverse teams in our various team projects. 
Note: Tish Robinson would like to exchange ideas with other Global Network partners about using team coaching, mediation, and facilitation skills to empower diverse teams. She can be reached at probinson@ics.hit-u.ac.jp.