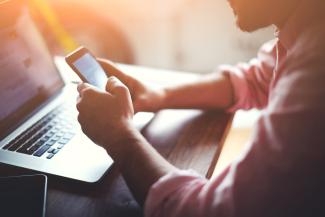 As we enter a new year, it has become a tradition to make one or a number of resolutions; usually it is to make a promise to do things that focus on self-improvement. As well as possibly going to the gym more often or learning a language, a resolution frequently include eliminating something, such as tobacco or alcohol. Perhaps I can suggest two phrases that should be eliminated from the vocabulary of most leadership teams to improve their application and use of IT in embracing digital opportunities and threats: 'IT management' and 'IT solution'.  
Let me explain.
I was recently approached by the learning and development organization of a large global company to help them design a customized executive education "IT management" program. The initial email request was short but it did mention that the program would be targeted at senior level employees in the company's IT organization.
I quickly probed for more details to understand the rational for the invitation. Having come across such requests on many occasions it did not take very long to eke out the reasons. The key driver, not unexpectedly, was that the business leadership team was unhappy with the return they felt they were getting from all their IT spend. Being slow to embrace digital opportunities, they also felt they were now in grave danger of falling behind their competitors, particularly in engaging customers through digital channels and in using big data. Moreover, the company did not have a good track record with IT projects; their IT infrastructure was 'old' and by all accounts was creaking at the seams. In the collective mindset of the leadership team, what was need was for the company to get better at 'managing IT.'
My assessment was that their core problem had really nothing to do with IT management (of the technology), with IT management (the people), or indeed, with IT management (the processes, such as ITIL best practices processes for service management). The problem was much broader; it was their inability to optimize value from IT within an acceptable level of risk.
Consider for a moment that all an organization's IT infrastructure and services are provisioned from the cloud. With no IT (i.e. software and other technical artefacts) needing management (using processes as specified by the likes of ITIL), or indeed IT professionals to manage the now nonexistent IT, does this not now eliminate the need for IT management? Yet, while there may be no technology in sight, issues about creating a vision for a digital future, building a compelling digital customer experience, designing a blue print for a digital platform, running projects, managing a portfolio of digital investments, making sourcing decisions and  managing suppliers, still remain. These get to the the crux of the problems and challenges that most organizations have with how they choose to harness IT (not manage it).
More fundamentally, it also highlights the problematic of the term "IT management." While it may have had currency decades ago – there was a time when computers actually had to be managed directly to ensure that they continued to function – today for most companies it is obsolete. It is also confusing. It is ambiguous. It is tautological. It is meaningless. The problems that many organizations attribute to IT usually have nothing to do with IT management!
I therefore advocate replacing the concept of IT management with one that is more meaningful to addressing contemporary challenges. I'm not sure, however, what this might be… We do have the notion of information systems (IS) management, but even the label IS has been hijacked and tends used interchangeably with IT. Of course changing a label won't fix the bigger problem, but it might provide a much needed realignment of management attention.
The other word that I would suggest eliminating from the lexicon of management is "IT solution." Software vendors have long recognized the folly of promoting the features and functions of their wears; most now engage in what they call "solution selling," emphasizing the problem that their software will solve.  Do you have a problem with customer management? If so we (i.e. any number of vendor names) have the solution. Need something to help with collaboration? We (i.e. any number of vendor names) have the solution. Struggling with big data? We (i.e. any number of vendor names) have the solution. The subtle implications is that, buy our solution and your problem is solved. Full stop.
The fact is, IT doesn't usually solve any problem. What the vendor's wears brings is a particular capability, which on its own will usually not solve "the problem."
While IT delivers a capability – a capability based around its ability to transform the way information is captured, processed, managed, exploited, explored and presented – in order to harness this capability complementary capabilities must also be developed in the business.  For example, successfully deploying CRM software on time and to budget will deliver little unless sales, customer services and fulfilment processes are redesigned, staff trained to have the right conversations with customers, data quality improves and marketers build the right competencies to use all the data that will now be available to them.
While both 'IT management' and 'IT solution' have a long history, the New Year's resolution should be to confine them both there.