Winchester House is renowned for its size, its architectural curiosities, and its lack of any master building plan. It is, unfortunately, also a great analogy for how many organizations have been constructed.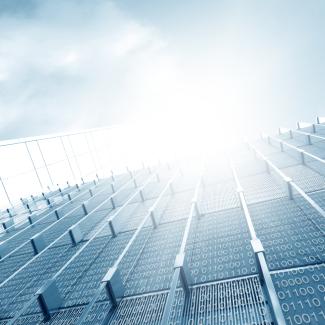 Winchester House, located in San Jose, California, was once the residence of Sarah Winchester, the widow of gun magnate William Winchester. This mansion is renowned for its size, its architectural curiosities, and its lack of any master building plan. It is, unfortunately, also a great analogy for how many organizations have been constructed.
After her husband's death, Mrs. Winchester inherited 50% ownership of her husband's company as well as more than $20.5 million. In 1884 she purchased an unfinished farmhouse in the Santa Clara Valley and began building her mansion. Under her day-to-day guidance, its construction proceeded without interruption, until her death in 1922. Workers were hired and, by all accounts, worked on the house day and night until it became a seven-story mansion with 160 rooms including 40 bedrooms, 47 fireplaces, 17 chimneys, and more than 10,000 panes of glass.
Mrs. Winchester did not use an architect and added on to the building in a haphazard fashion. The result is that the house contains numerous oddities like doors or stairs that go nowhere, windows overlooking other rooms, stairs with odd-sized risers and a vast array of colors and materials. One window was even designed by the famed New York Tiffany Company, so that when sunlight strikes the prismatic crystals a rainbow is cast across the room. The only problem is that the window was installed on an interior wall in a room with no light exposure, preventing the effect from being seen!
Many organizations can find themselves in a similar situation with their structure and form emerging without any overall blueprint or architectural integrity. Processes are bolted on in response to new products and services. Systems are implemented to support local initiatives or to meet regulatory requirements. Policies to aid efficiency are ignored. So called 'shadow IT' sees applications provisioned directly from the 'cloud' supporting local or functional strategies and initiatives, often unbeknownst to the IT department. The result is different data definitions, inconsistent business logics, multiple workarounds, unrealized synergies, redundancy, re-invention rather than re-use, and a myriad of different, often incompatible, technologies creating the nightmare that is haunted by the ghosts of decisions past! This is the reality of most organizations operating model.
IT systems 'hardwire' an organization's processes, practices and information flows, ultimately determining what it can and cannot do. Indeed, any IT outsourcing contracts will be based on a particular way of running the business, locking these in for many years. This will inevitably have a significant impact in operations. Technologies such as "middleware" can provide short term relief, but it is usually only papering over the proverbial cracks, adding to the problems that will inevitably be encountered in the future.
Without any integrity or coherence in the business operating model, the inevitable result is complexity and the inability to respond to changing competitive conditions and to embrace new digital opportunities because of the legacy of past decisions and indecisions. In response, many now seek agility yet simultaneously fail to address the issue of complexity and exorcise the spirits of legacy. Agility cannot be achieved without first tackling complexity.
But it need not be like this.
The discipline of enterprise architecture (EA) has been around for some time and seeks to establish a blueprint for an organization's operating model. However, its origin in the IT world usually sees it portrayed as a technical discipline. It is not; although it emerged in response to the IT profession's recognition of the need to have some overarching blueprint or architecture for building IT systems. Because of the reluctance of business managers to engage in this process of what is essentially business design, it is more often undertaken by IT professionals themselves, second guessing what they think the business will require and then expressing it in technical terms.
While there is a technical dimension to EA, IT systems do have to be built, just like plumbing installed in a building; but this is just one perspective. In designing and constructing any structure, there are multiple perspectives to take into consideration: the owner, the planning authorities, the building contractor, the carpenter, the bricklayer, the glazier, the plumber, etc. All have a role in what is being built, but need to work from a common vision if coherence is to be achieved. Key choices are around the design of the overall blueprint and the degree of process standardization and the extent of information integration. These are business choices not technical ones. Any choices made will have significant impact on performance.
To make these choices, five things are required.
The leaders of the business must take responsibility for the design of the business model that frames the EA from a process, people, data and things point of view. This involves an integrated view of how value is created through products, services, and solutions and then captured in the design of the operating model. Many executives focus on capturing value before they have figured out how to create it. As incumbent businesses are increasingly threatened by digitally oriented disruptors, the operating model is as important as the innovative design of the business model.
Enterprise leadership – a view of the business beyond optimizing functional silos between business functions and across support functions – is a must. Too many executives are still mentally tied, measured, and rewarded for functional leadership and not an integrated view of how strategy, structure, processes, culture, rewards, and information flows define how a business operates and continuously changes. Again, disruptive entrepreneurs in many established industries focus holistically on the operating model, while consciously abandoning established functionally oriented ways of thinking and leading.
Firms must give up the dominant IT paradigm of the IT department "deploying systems" within requirements, on time, on budget and going live. To gain agility, the company leaders must adopt a usage oriented view of turning data into useful information, of designing software as usable applications, and of leveraging technology and infrastructure from whatever combination of partners and suppliers can deliver desired functionality. Clearly, the consumer world of "Apps" and usability is driving a usage oriented paradigm into the corporation that is challenging the established IT view of the company dominated by big systems, big projects and "deploy and go live" mindsets, behaviors and measures of IT functional success.
Enterprise architecture must be driven by a customer and market oriented view of a constantly changing business environment. If executives believe that their industry and business climate is driven by VUCA — volatility, uncertainty, constant change, and ambiguity — then  their views of the business model and underlying operating model must be designed and built with simplification, flexibility, agility and mass customization in mind. Despite the declining life cycles of companies in most industries, the IT view of EA is still dominated by views of stability, complexity and standardization that are out of step with both the global business environment – a VUCA world -- and the continuous forces for digital disruptions coming from the world of AMPS —a nalytics, mobile, platforms and social media.
Business and IT leaders must take a long-term view of how to design and build modularity into the databases, systems and processes they support. When you cannot predict what data, systems, and technologies you will use in 5, 10 or 15 years, then you must view the operating model with an eye toward "flexible stability" where you design and execute with constant change in life cycles of processes, databases, systems and technology in mind. Business and IT leaders must apply a "design for use" approach to their views of enterprise architecture, rather than a "design to build" approach where stability, compliance and risk are the dominant views of EA.
Mrs. Winchester could afford to build a house with no real design and architectural concept in mind except her daily tastes! Business leaders cannot afford either the chaos of Winchester House in the companies or the IT dominated views of EA. Neither view is acceptable for a world dominated by digital innovation, change and disruption.