February 7, 2020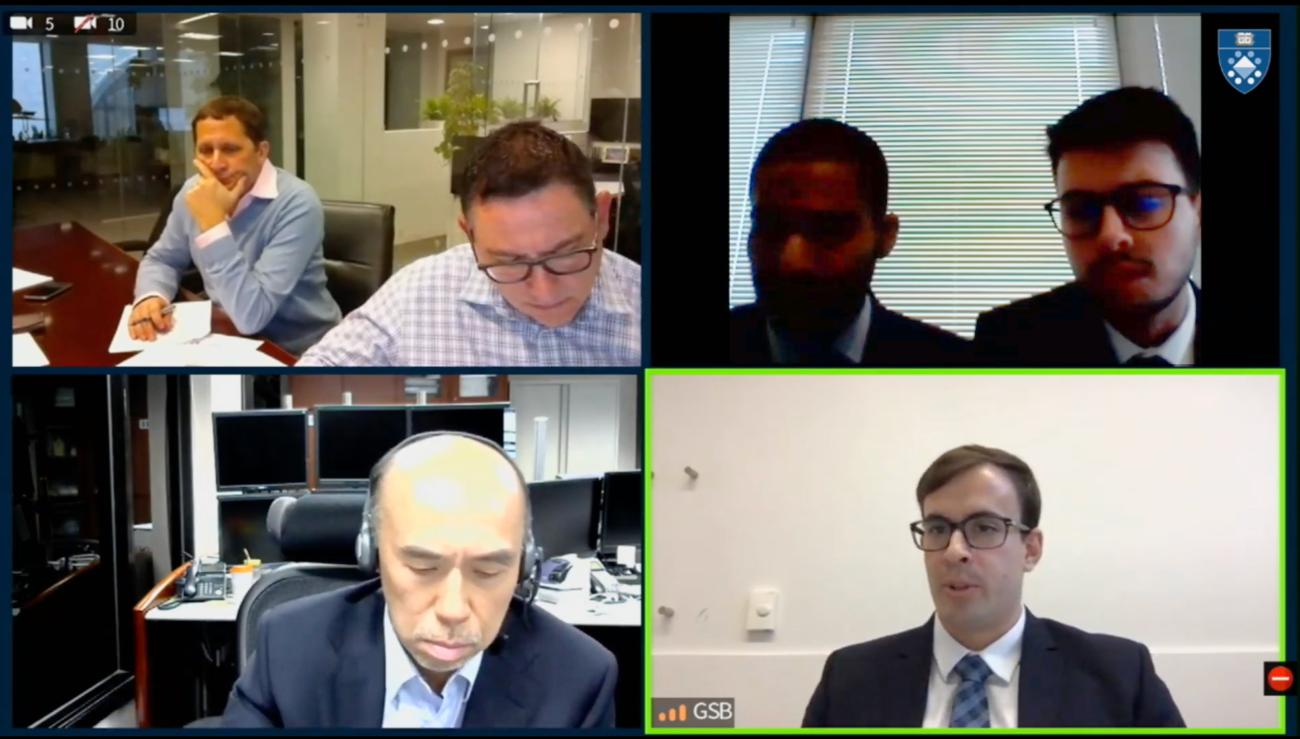 A team of students from the University of Cape Town Graduate School of Business won the Security Analysis Live Pitch Competition, part of the 2019-20 Global Network Investment Competition, on February 7.
In a live virtual event, the team of David Rabinowitz, Thinesh Vittee, Curtis Ray, and Asanda Manina pitched the stock of Clicks Group Ltd., which operates drug stores in its home market of South Africa, to a panel of investment professionals acting as judges.
"I thought it was an excellent presentation," said judge Michael Alpert, a portfolio manager at Stralem & Company. "I really liked how you opened by discussing what it was that you were looking for, what your criteria was, and how you got to this stock." 
Alpert's fellow judges were Adam Abelson, chief investment officer at Stralem & Company, and Eddie Tam, a graduate of the Yale School of Management and CEO and chief investment officer at Central Asset Investments. Tam has served as a judge for each of the five annual Global Network Investment Competitions. 
Second place went to Wujiaochang Alliance, a team from Fudan University School of Management, which pitched the stock of Jereh Oilfield Services Group. China's measures against coronoravirus were apparent in their presentation: members of the team connected individually from their homes rather than gathering together to join the videoconference.
The Global Network Investment Competition is sponsored by the International Center for Finance at the Yale School of Management. A total of 24 teams from 16 Global Network schools selected portfolios of stocks from their home markets. For the Security Analysis Live Pitch Competition, each team submitted a written pitch for one stock in its portfolio; four finalists, also including teams from the National University of Singapore Business School and FGV Escola de Administração de Empresas de São Paulo, were selected by the judges to make their pitches live.
The Global Network Investment Competition will also present a performance prize to the team with the highest return relative to the performance of its home market over the six-month duration of the competition.