March 7, 2019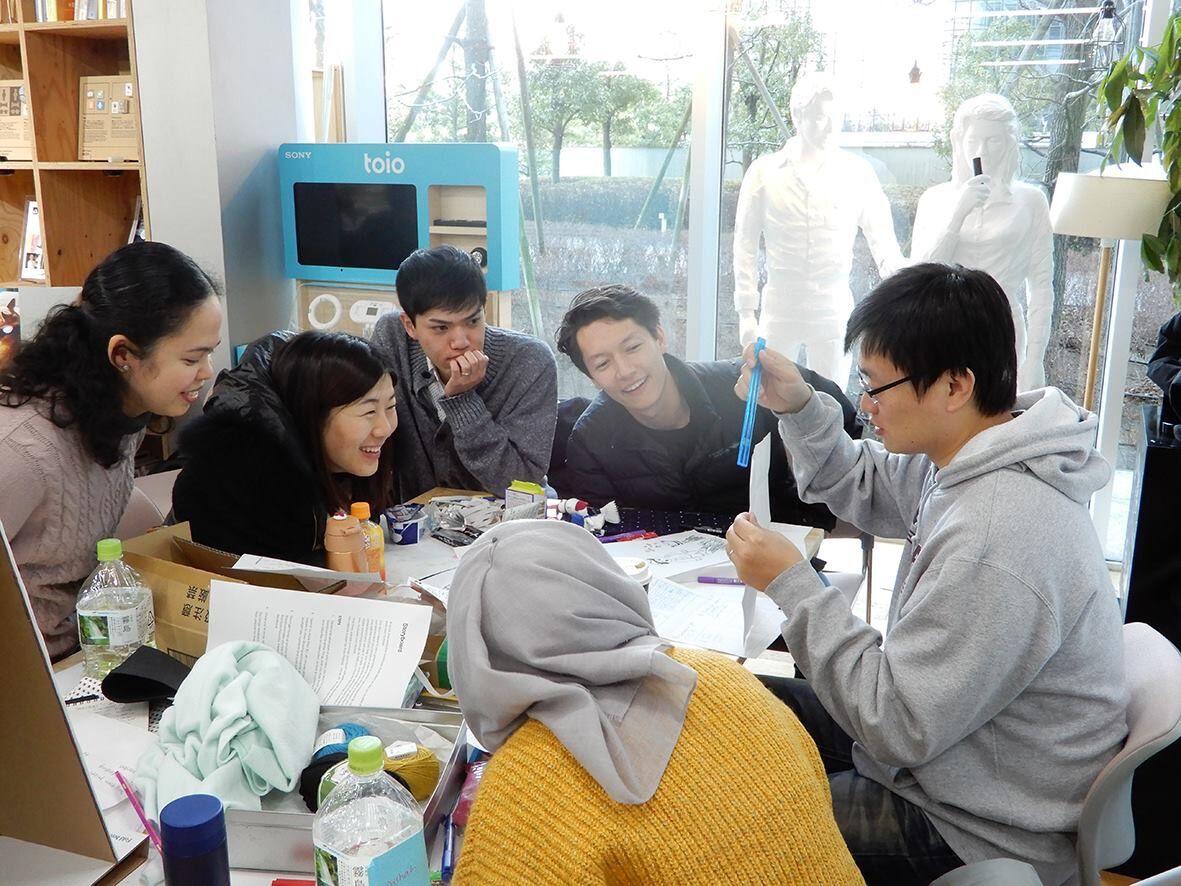 This year, Hitotsubashi ICS' ever-inventive Global Network Project (GNP) class took a new tack towards applied learning: developing a business solution for a big client right in Tokyo. In mid-January, #HitotsubashiICS18 students started work for Sony's MESH and planning the product's global roll-out.
Sony's MESH is a set of 7 wireless sensors (IoT Blocks) that streamlines IoT prototyping. The  students' challenge is to develop an educational solution that leverages the technology of Sony's MESH, while spurring both economic and social impact.
Hitotsubashi ICS' GNP course offers students the opportunity to integrate and apply frameworks, concepts, and models from across the MBA curriculum to date. Classroom discussion, workshops, interviews, observations, and even target customer focus groups/interactions evolve into specific action plans for the business world.
The 4-module class kicked off at Sony's Creative Lounge in Shinagawa, central Tokyo. Student teams - including first and second-year students and exchange students (EX) from ESADE, LSB, PKU and Yale SOM – were given a starting-point introduction to Sony's MESH. By the end of the GNP course, each team had created a solution using the IoT blocks.
After the kickoff, classroom sessions introduced key concepts and frameworks. GNP module two then offered a 3-day Design Thinking Workshop culminating in an interactive session with elementary school students. Each student team presented their prototype, and together with the children, worked to co-create an improved version. The workshop laid the foundation for a quick prototype-driven project based in human innovation.
During module 3, the GNP students leveraged on Hitotsubashi ICS' network and reached out to not only, Global Network student ambassadors and EX partners but also to ICS alumni to run a concept test with people who are originally from, or currently living in, the market/s (countries, regions, or cities) in which they propose roll-out plans for their IoT solutions.
Last week, GNP culminated in an all-day session at Sony's Creative Lounge. Where teams presented their take on the current and the future landscapes of "learning"; the target market, value creation and value capture their solutions intend to provide. After their pitch to Sony's MESH's team, the three groups presented their work to Sony's Deputy Senior General Manager of the Startup Acceleration Division.
GNP was an exceptional opportunity for our students to hone and deepen their business skills creatively and sustainably by tackling emerging business issues. This year, the focus is on IoT solutions and products, a transformation that is exponentially pervading across industries. Professors Satoko Suzuki, Yoshinori Fujikawa, and Tom Kamegai, crafted the curriculum of  the Global Network Project seeking to inspire students to become agents of change, equipping them with the tools and experience to solve relevant issues of our time.
It is with great enthusiasm that we extend our deepest gratitude to Shinji Odashima, Deputy Senior General Manager, for leading GNP's Final Presentation session; to Takehiro Hagiwara, co-founder of MESH, for sharing with our students his story about why he created Sony's #MESHprj; to Yohei Numata and Shingo Yoshizumi, of the Startup Acceleration Department; and to alumnus Toshikazu Imada (ICS' Class of 2006) for his support as this year's exciting GNP course, once again, breaks new ground.