January 6, 2017
City:
Istanbul, Turkey
Topic & Description:
From Local to Global: Concepts, Frameworks, and Analytical Tools Necessary to Develop an Effective Global Strategy
Globalization has changed the dynamics of business irrevocably. Today's companies must operate on a much larger scale and in an environment of global competitiveness where product development, market needs, customers' targets must take into account multiple cultures, collaborations and regional developments. Even for companies that do not intend to "go abroad," the entry of foreign companies into their home markets makes a better understanding of global strategy a necessity if not a requisite for survival. The goal of this course is to introduce you to concepts, frameworks, and analytical tools necessary to develop an effective global strategy. There will be case studies and a presentation by student group teams on companies visited.
Accommodation & Travel:
Accommodation & Travel Information
Contact:
Başak Yalman (byalman@ku.edu.tr)
Yasemin Soydaş (ysoydas@ku.edu.tr)
Oxford University's Saïd Business School has joined the Global Network for Advanced Management, the leading network of top business schools committed to educating global leaders.
Saïd Business School is a modern, vibrant, and innovative school deeply embedded in an 800-year-old world-class university. The Global Network's mission is to drive innovation and create value by connecting leading global business schools, their resources, and their stakeholders, and it now includes eight schools in Europe, nine schools in Asia and the Pacific Islands, five in the Middle East and Africa, and seven in the Americas.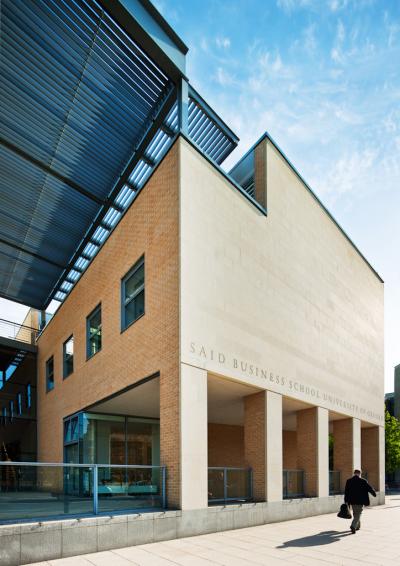 As it approaches its fifth anniversary, the Global Network has facilitated global learning, global inquiry, and global teamwork among its member schools. Its academic programs have become valued offerings for students at participating schools. For instance, Global Network Weeks enable students at participating schools to travel to other member school campuses for week-long mini courses, partake of the hosting school's academic expertise and local business connections, and build relationships with other globally minded students from across the Network. More than 3,200 students have participated in Global Network Weeks. More than 550 MBA students have taken one of the Small Network Online Courses (SNOCs) that connect faculty at one member school with students across other member schools who work together in global virtual teams. New initiatives continuously bubble up and activate connections between member schools. A recent "Unconference" hosted by the Technion–Israel Institute of Technology, for instance, has galvanized cross-network activity related to entrepreneurship. And the Global Network's Certificate of Excellence in Global Business now enables senior leaders to craft their own non-degree course of study from more than 200 executive education offerings across 19 member schools.
Saïd Business School was unanimously approved to become the 29th member of the Global Network. The school will gain full access to the Global Network's innovative pedagogical initiatives that connect students and faculty with peers across a range of diverse economies. Oxford Saïd plans to actively engage with the Global Network across a range of programs, likely including Global Network Weeks, faculty research initiatives, and executive education, creating opportunities in the United Kingdom, as well as connections to one of the world's leading universities.
Peter Tufano, Peter Moores Dean, Saïd Business School, commented: "In an increasingly uncertain world and one in which politics is accentuating national boundaries, it is vital to maintain a global perspective. While we do this in our curriculum and in the composition of our classes, by joining with our new colleagues from across the world, we can build bridges for learning and understanding across cultures and communities. All great institutions—even Oxford—benefit by working with others; solving the world's most complex global problems requires multiple perspectives. The Network is a brilliant initiative to share knowledge and learning across borders and institutions."
A major conference in recognition of the fifth anniversary of the founding of the Global Network for Advanced Management will be convened in April 2017 to showcase that the future of management education has arrived. Deans and invited guests from all Global Network member schools also will assess the implications of rising economic populism and anti-globalization sentiment for business and management education. The conference will demonstrate the power of networked education by featuring real-time virtual student project work, the results of data gathering across the Network, and jointly developed case studies.
Jikyeong Kang, the president, CEO, dean, and MVP Professor of Marketing at the Asian Institute of Management, said, "We believe the Global Network is a major contributor to the future of business education. The myriad connections—between students, faculty, and alumni—made possible by the Network strengthen the programs at each school by extending our reach and vision. Having Oxford Saïd as part of the Network will bolster that effect."
Peter Todd, the dean of HEC Paris, commented: "Our students are curious about business and culture in regions all over the world. Adding Saïd Business School to the Global Network gives those students expanded access to and insight into one of the most important global markets. Saïd also brings tremendous intellectual resources. I am confident this will strengthen the network and increase what each member school can accomplish."
The Network has expanded by nine schools since its founding and has attracted interest from many in management education.
The University of California Berkeley's Haas School of Business joined in 2015. Richard K. Lyons, the Bank of America Dean at Berkeley-Haas, described the benefits the school has seen through engagement with the Network: "There is no single school or program that can offer its students such a wide array of quality educational content or access to peers and faculty across so many countries. Berkeley-Haas students especially enjoy the flexibility of the format, which ranges from online courses to in-country visits. Plus, the potential for schools to collaborate in digital learning, particularly asynchronous courses, is just tremendous. Finally, the effective alumni network our students can access is vast."
"The Network has progressed from a concept to a proven innovator," said Edward A. Snyder, the chair of the Global Network for Advanced Management and the Indra K. Nooyi Dean and William S. Beinecke Professor of Economics and Management at Yale School of Management. "Having Oxford, a global leader with unmatched intellectual resources, join us will strengthen the Network. We look forward to Oxford Saïd advancing our work on the forefront of management education."