March 5, 2015
When Mark Solms bought the land that is now the Solms-Delta Wine Estate, he faced an immediate issue: there were people living on the property. The residents said that they had lived in the area for generations.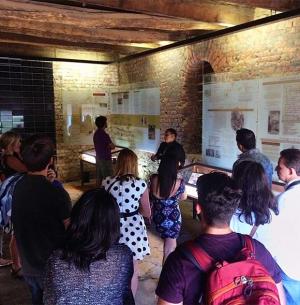 Solms, a medical doctor who returned to his homeland in the post-apartheid era, hired an archaeologist, to check the site and evaluate its potential for artifacts. The archaeologist found that people had indeed lived on the property for nearly 6,000 years. Solms decided to partner with the families on the land instead of evicting them.
"We needed to confront the past and focus on the culture," Craig MacGillivray, CEO of the vineyard, said to Global Network students on a company visit from the University of Cape Town Graduate School of Business on Thursday. "That was a key factor in who we were to become. Heritage is very important to us."
Solms paid to rebuild homes on the property for the seven families that were already living there. He offered them jobs. And he opened a museum dedicated to their heritage and the history of the farm, complete with archaeological artifacts. The museum now attracts 30,000 visitors per year.
The community—which has now expanded to more than 250 families—is now involved in nearly every aspect of the business, including harvest, providing educational opportunities and training, and sales. Nearly 70 other farmers have taken note of business's model for incorporating its community, MacGillivray said.
"We believe that everything we do has to not just be quantitative, but qualitative," he said. "We can go in and have a businessman just cut, cut, cut, but that's not what we believe in. We have a choice in how to go into the market." 
Every role within the company is critical to its success, MacGillivray added. "We work together with the residents side by side every day," he said. "People need to know how their role is important, why what they are growing matters and how it gets us to the awards table in London. You can't be going to these shows and gaining trust from your employees unless they know why their role is important. We have to look out for others' interest, not just our own."
Matthew O'Rourke is blogging this week from the University of Cape Town's Global Network Week module on emerging markets.