October 17, 2014
Day Three of the Global Network Week 2014 commenced at the School of Business, Renmin University of China. Professor Yunxia Feng of Renmin University of China lectured under the heading of "Guanxi in China: Society and Application" where she attempted to decipher this topic, which has mystified foreigners who interact with China for decades.
Following a brief break, students welcomed Renmin MBA graduate Mr. Yaoguang Jin. Mr. Jin, as Manager of the Project Section of the Enterprise Development Department of Sinosteel Corporation, gave a speech entitled "Sinosteel – Background and Industry." Sinosteel is China's second largest importer of iron ore and its headquarters are located near to Renmin University of China's Haidian campus. Mr. Jin discussed Sinosteel's structure and how Sinosteel as a State-Owned Enterprise (SOE) has evolved along with the Chinese economy. He also discussed the financial relationship between Sinosteel and the Government and the question of whether to pursue private equity investment. Discussing the challenging commercial environment which SOEs inhabit, Mr. Jin commented "Sinosteel has two bosses... one is the Market, the other is the Central Government."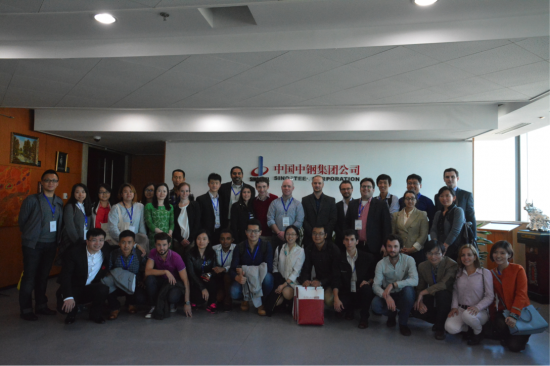 Afternoon activities were then held at the global headquarters of Sinosteel. Students enjoyed a stunning meal at Zhongguancun Park where a 360-degree view of Beijing's Silicon Valley is available. During the visit to the exhibition hall, company officials taught students about Sinosteel's development, products and how it is currently diversifying its business areas following the recent fall in steel prices. Later a Q&A session was held with senior management from Sinosteel, including Ms. Dan Chang (Deputy General Manager of HR Department), Ms. Shuang Wang (Vice Dean of Sinosteel Economic Research Institute), Ms. Zhuo Zhang (Manager from the President's Office) and Mr. Bo Hong (Manager, Training and Career Development Section, HR Department). They patiently answered questions from MBA students on topics varying from HR policy and recruitment to global expansion plans, the environment and the current market situation. Following on from Professor Yunxia Feng's lecture on Guanxi senior management stressed the importance of guanxi for SOEs so as to ensure strong relationships with Government and the private sector alike.
About Global Network Week
Launched by the Global Network for Advanced Management and Yale School of Management in 2013 the Global Network Week has expanded to over 27 schools from 25 nations. Global Network Week gives students the opportunity to travel to another school for a one-week intensive mini-course.
About the School of Business, Renmin University of China
Founded in 1950 Renmin University of China was the first university in the People's Republic of China to offer business studies degrees. The School of Business, Renmin University of China is both EQUIS and AACSB accredited and in 2013 was ranked first in national rankings in the field of Business Administration by China's Ministry of Education. Renmin first commenced its MBA program in 1990 and later launched it's International MBA program (in English) in 2009. Since 1990 over 6,000 students have successfully graduated from the School of Business's MBA programs.
By Cian O'Dowd, IMBA Class of 2016, School of Business, Renmin University of China