August 1, 2014
Three decades after the Mexican company San Miguel began producing amaranth food products in its factory in the village of Huixcazdha, sales were steady but had never taken off. Amaranth seemed well suited to the tastes of the growing ranks of the health conscious—the grain is nutritious, high in protein, and gluten-free—but San Miguel had never gotten a foothold in the consumer market, making most of its sales to Mexican state governments.
San Miguel faced a series of complex questions. Was the company marketing its goods properly? Should San Miguel start its own brand to sell in stores or should it continue to rely on government contracts? Could the company find success using international partnerships to market its product abroad? And how could the company expand while adhering to a central mission: to help the community where it was located?

San Miguel's situation is the subject of a "raw" case study, developed for MBA students by the Yale School of Management and Tecnológico de Monterrey. In contrast to traditional case studies, which generally present a 10- or 20-page linear narrative, raw cases are websites that augment a narrative with a trove of real-world information—video interviews with key players, news stories, financial documents, and other source materials. The approach requires students to work in teams, examine materials from multiple perspectives, and parse extensive data to design solutions to complex problems.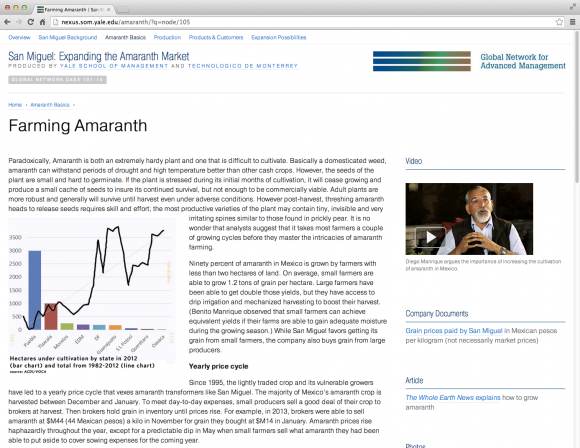 In the amaranth case, students have access to the company's income statements for four years, historical production trends for San Miguel, and video interviews with company representatives. "There's a lot more to a raw case. It's not something that's just another assignment," says Jaan Elias, director of case development and research at Yale SOM, whose team assembled the amaranth case. "Students learn the industry and the problem."

Since the creation of the Global Network for Advanced Management in 2012, Elias and his team have expanded their efforts to create raw cases that reflect the complexity of global markets, collaborating with faculty from other network schools in identifying topics and assembling materials. For the amaranth case, Elias enlisted colleagues at Mexico's  Tecnológico de Monterrey, who  worked with the Yale team to conduct interviews, write text and translate documents.
The Yale team has also developed cases in collaboration with IE Business School, National University of Singapore, and UCD-Smurfit. Connections to network schools with ties to local industries and governments make large projects easier to navigate and provide richer content, Elias says. "Their local is our international," he says. "They have access to facilities and access to things we could not otherwise do and the cases are stronger for that. They also bring a fair amount of perspective to a situation that we may not have otherwise."
Raw cases are often taught in Global Network Courses—virtual classes that bring together students from throughout the network—and are also available for network schools to teach in their own MBA classes. "Raw cases work well with Global Network courses since they use an online platform already and can complement that," Elias says. "The cases make full use of the technology students are already using to attend the course."
Kenneth Richards, a professor at NUS, collaborated with the Yale team in creating a case about the environmental impact of the palm oil industry in Indonesia, and has since taught the case. He says that one of the advantages of raw cases is their flexibility. The web-based cases provide opportunities for students to watch a real-time business scenario evolve; cases can be modified to include the latest data and news stories about the issue.
"Developing the case has exposed our faculty to the complexities of the palm oil industry and the many challenges it faces," Richards says. "By teaching the case we have gained new insights into the importance of trisectoral interactions—government, business, and nonprofit—and the growing importance of the NGOs in addressing potential efficiency gaps left by markets and regulations."
Working on the case underscored the importance of the Global Network in preparing MBA students to work globally, he adds. "One of the elements that comes out in the case study is that doing business in Indonesia requires a very different perspective and approach than doing business in the West."