Are there prescribed courses, or do I choose whatever I want?
You create your own learning journey based on your budget, schedule, and professional development goals. A certificate team member can help you design your certificate curriculum. The programs you choose must total 15 days over two years and be taken at least three different schools in at least two countries.
Who can help me with questions about a specific executive program?
Please contact a certificate program team member. Email Jenna Pettit.
How do I explain the benefits of the certificate program to my supervisor?
Download our Certificate Justification Letter.
Which programs qualify for the certificate?
Only programs listed on the program page qualify (Participating schools offer additional programs that do not qualify for the certificate.) You will only receive a 10% discount on qualifying programs.
Can I take more than 15 days of programs?
Yes. You are also welcome to take programs at more than three schools and more than two countries.
What is the capstone project?
The capstone project is the culminating assignment in the certificate program, an opportunity to apply your program learning to your current business environment through a project you design. Our team will help you select a faculty member at a participating Global Network school to oversee your capstone project, providing support and coaching. After your project is complete, you'll give a short presentation to a panel of experts from three Global Network schools.
When will I receive my Certificate of Excellence in Global Business?
You will receive the certificate by mail after we verify that you have completed 15 days of qualifying executive programs and your capstone project within two years of your registration date.
What does the actual Certificate of Excellence in Global Business look like?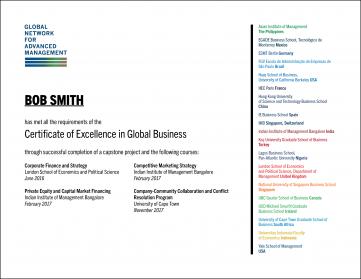 I completed a qualifying executive program before I knew about this certificate. Can I count it toward my 15 days?
Executives who have already taken one or more qualifying programs within the previous 12 months may count up to 5 days toward the 15 required days. The 10% discount will not be retroactively applied.
Are all the courses delivered in English?
Most, but not all of them.  
I still have questions. Whom can I speak to?
Contact a certificate program team member. Email Jenna Pettit.